My family


My husband Daniel Lourie is an editor-in-chief, he worked for several cultural, sports and traveling magazines and websites. We have two daughters: Elizaveta and Lydia, or Liza and Lida. My parents Anatoly and Maria, and my younger brother Pavel are all computer programmers. My younger sister Olga received her BA from the bio department of St. Petersburg State University, but then started a new life working with children
— now she teaches in a kindergarten
. Here are Daniel, Liza and Lida: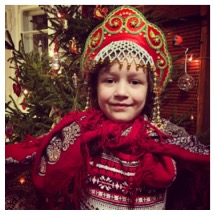 My name

My last name looks funny, but it is simply a Ukrainian word derived from German
Schlosser
('locksmith') and transliterated by Russian officials 'à la française'. Later on, transliteration rules changed, and, despite all my efforts, I have a new version of my last name,
Slyusar
, in my passport, while the old version stayed in all other documents. Pronouncing my last name as
sluicer
is the best strategy not to get it totally wrong. As for my first name, I use the full version or a diminutive, Natasha. The official Russian version of my first name is Natalia Anatolyevna (daughter-of-Anatoly).